Skillseeker was looking for a tool to optimize their sales processes. Did they find what they were looking for with Teamleader? Find out here!
Who? Lucas van Ardenne, co-owner
What? Courses, trainings and workshops
Teamleader since? September 2015
Modules? CRM and projects
Challenge? Optimizing sales processes
Keizersgracht, the second and widest of the three major canals in the city center of Amsterdam, is where you will find Skillseeker's headquarters. Skillseeker aims at offering the most enjoyable and inspiring courses, trainings and workshops. They enable course providers to reach a wider audience, and participants (of all ages) to apply for workshops that best suit their preferences, to improve skills linked to either their personal or career development.
Sales processes
In order to improve and streamline their sales processes, Skillseeker set out to finding the right software. And that journey was not all plain sailing. "We tried out multiple systems, mostly workflow and project management tools: Podio, Salesforce, Highrise, Basecamp. None of those truly responded to our needs. With some tools, we found it was difficult to export data, while others were simply too expensive for what they offered in return. Eventually, we ended up trying Teamleader. Since they had an office in Amsterdam, they were able to meet with us on short notice. We were very happy with that!"
But of course, the trainings selected and offered by Skillseeker still have to be sold. In this light, Teamleader proved incredibly useful. "Most, if not all of our core activities in the past six months have been focused on sales. That is why we were looking for a tool that really supports our sales processes, while allowing us just as much to provide proper customer care. With Teamleader, we have found our match. As an all-in-one solution for our organization, Teamleader fits the bill perfectly."
"As an all-in-one solution for our organization, Teamleader fits the bill perfectly."
The other tools Skillseeker tested showed some more flaws. "For instance, we were working with Volksuniversiteit Amsterdam, offering over 900 courses divided among 60 teachers. With our previous tool, those 60 teachers were added as separate contacts, while in fact we have one centralized contact who manages our business with Volksuniversiteit Amsterdam. Needless to say, we were confronted with an unclear database that really gave us no information whatsoever."
"Moreover, we were unable to keep track of our pipeline or analyze how we were doing with the other tools. Now, we can keep track of the status of our deals every minute of every day, how many proposals we have, what meetings were cancelled, who is (under)performing and what invoices still have to be paid by which customer. Teamleader has allowed us to gain a clear overview of all that."
Integrations
Lucas is already using some of the integrations offered by Teamleader, a number that is likely to increase in the nearby future. "We want to start sending out more mailings using MailChimp. So far, we haven't really done a lot of e-mail marketing, but Teamleader allows you to see who opened your e-mails and follow up on those leads as well. So we'll be sure to use the hell out of that feature."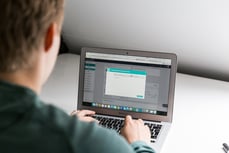 When it comes to Teamleader's biggest advantage, Lucas did not have to think about his answer for long. "Being able to delineate projects and knowing when you enter each phase of the process. Every project consists of different tasks and the important thing is being able to work towards the end goal, while making sure that all those tasks are actually completed. That is what makes the flow from CRM to projects so great: you can quickly go through each phase, in close cooperation with your customer."
"Within half a day, every new user understands how Teamleader works and how the tool is organized."
Teamleader's ease of use is crystal clear to Lucas. "Teamleader is completely foolproof, which is absolutely amazing. Even though I have some technical knowledge, not having to explain everything to new colleagues obviously makes things easier. "Within half a day, every new user understands how Teamleader works and how the tool is organized."
Scalability
"We have been growing steadily, but we need to take peak moments into account during the year. In our market, December to January and July to September are traditionally busy months filled with courses, trainings and workshops. Teamleader allows us to perfectly respond to those seasonal peaks. Do we have a lot to wrap up before the end of July? In that case, we can anticipate and tackle these projects in due time."
"Teamleader allows us to perfectly respond to those seasonal peaks."
Teamleader is more versatile compared to its competitors, that much is clear. "Teamleader opens the door to a wide range of possibilities. The more you use the tool, the more you notice how much of an advantage it really is. This is mostly due to its flexibility: it allows you to save plenty of time and maybe even the cost of an extra co-worker. We have a clear growth model in place: we want to grow fast, while also remaining flexible and not being bound to our location. This system allows us to do just that."
"We want to keep moving forward in this market and manage our administration as efficiently as we possibly can. If our teachers are able to carry out their job with passion and enthusiasm, we are very happy. And we can help them with that. Just like Teamleader helps us."