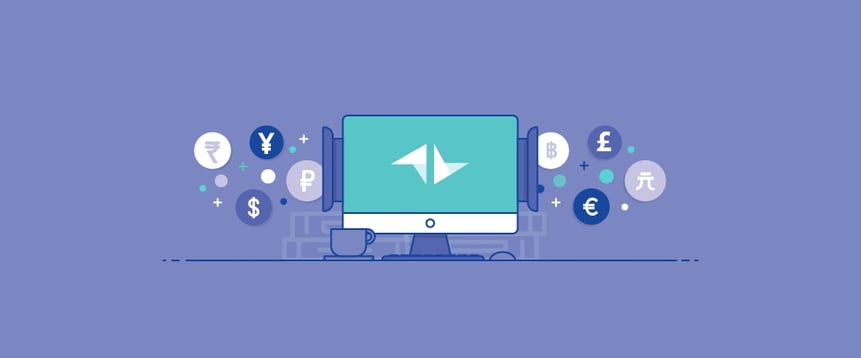 If you're doing business with other, non eurozone countries, you'll be delighted: Teamleader offers you a way to create quotations and invoicing effortlessly in all available currencies (with the exception of cryptocurrencies).
Why multi-currency?
A lot of Teamleader customers do business abroad. Within the eurozone, this is usually not a problem. But when you have to send a quotation or an invoice in another currency, then it gets trickier.
Safe to say this was easily one of the most requested features by our customers. We've researched, listened and built the ideal solution for you.
If you're not much of a reader, we suggest you have a look at this short video to get an idea of how multi-currency can benefit you and your company:
Let's dive into it a bit deeper:
As is customary within Teamleader, the multi-currency feature is embedded into the whole application - at least, where it makes sense.
So let's start out with a deal. When you create a quotation, one of the first things you'll see is the new selection field for 'Currency'. By default, this will be set to your department's currency, most likely Euro.
If you change the currency, the current conversion rate will also show up. This conversion rate is retrieved from real-time currency exchange rate solution currencylayer.com. However, if you want to change this conversion rate (in agreement with your customer for example), you can change it yourself.
When you start adding items to the quotation, all items will be in the currency of your choice. This way, when you send your quotation to your customer, he'll know exactly what he's paying for.
Tip: you can choose a preferred currency per contact or company via their invoice preferences. This way, if you're creating a quotation or an invoice for them, the right currency will be selected by default.
And once your customer agrees, converting the quotation into an invoice will also take the previously set currency into account.
Not using the invoicing module yet? Contact us and try it out for free!
Clear statistics
The best thing about all of this? You never have to worry about converting back to your default currency. The Teamleader statistics will do that for you. You will always see how much revenue you're gaining in your own currency, no matter in how many different currencies you've invoiced customers.
Bookkeeping ease of mind
Most bookkeeping tools usually have an option to choose which currencies you allow. That might be something to check with your accountant.
But you don't have to worry. Teamleader is smart enough: even if an invoice is in a different currency, we will send the invoice to your bookkeeping tool converted to your default currency, along with the currency exchange rate.
This feature is available to all Teamleader users. Haven't tried Teamleader yet? Start your free 14-day trial today!