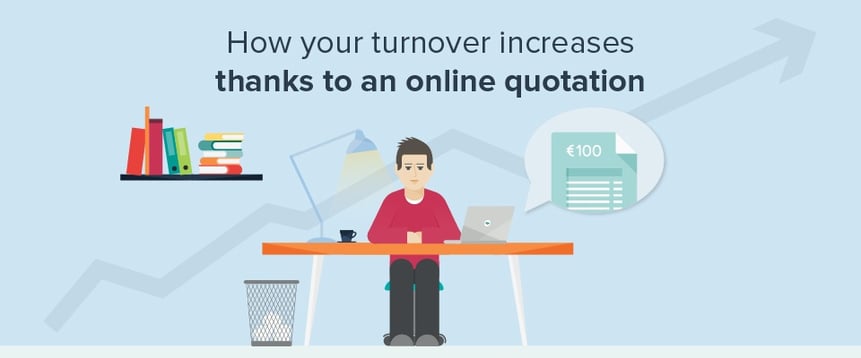 You've spent enough time drawing up your quotations, now you want them to arrive safely. Paper versions or e-mails? Time to discover online quotations!
Your quotation is and remains the best advertisement for your company. You've undoubtedly spent enough time working on it; therefore it's only natural that you want it to arrive safely at your customer. Unfortunately you never have a rock-solid guarantee that a paper quotation will really get to the right person. Your quotation can be lost in the post or your customer can claim that he never received anything. As a second option, you do have e-mail. But here too, there's no 100% certainty that the quotation will be opened and read. It's easy to get an e-mail address wrong or imprecise or your carefully drafted document can get lost in an overflowing inbox or end up in the spam folder.
A third and much more efficient solution is sending, consulting and approving quotations online. Although this way of sending quotations is not yet widespread, more and more companies are becoming convinced of its convenience. There are several reasons why an online quotation is an ideal solution to replace your current way of working.
A higher conversion ratio
One of the biggest problems in your sales route is actually getting your customer to sign your quotation. In the whole process from acquisition to acceptance, signing the quotation is often the one step that takes the most time. It's sometimes so slow that the entire process grinds to a halt. So it's to your advantage when your potential customer receives his quotation as quickly as possible. Sending a quotation by post is time-consuming and for each hour that passes, your chances of making a conversion diminish. So it's logical that fast delivery of a quotation is directly linked to a greater income margin.
Cheaper
One reason that will certainly play a role in opting for an online solution for quotations is the cost. If you need to persuade someone in your organisation, then this is certainly one of the top reasons for making the switch. In contrast to the relatively high costs of paper quotations - paper, ink, and postage - an online quotation platform is almost free. Let's face it: paper is barely appropriate in an online business world. With most software, the cost for sending a quotation stays the same, irrespective of the number.
It's not only the cost of sending a quotation that plummets, but the hours spent on follow-up decrease as well. Thus your sales team can focus more rapidly on closing quotations instead of constantly chasing your customer.
Follow-up
We're not claiming that your sales team is in for a cushy life, but it does at least help them to gain more insight into this phase of their sales process. How often do you phone or e-mail a lead to find out whether they've made a decision, to discover that they haven't even looked at their quotation? Thanks to an online platform like this, you can immediately see your sales results: if your lead looks at his quotation, the system immediately gives feedback to your salesman. Your salesman can therefore rapidly check whether a quotation has been looked at or not, as a result of which he can follow up on his lead in a more focused way.
Low-threshold communication
No matter how clearly your quotation has been drawn up, there's a real chance of your lead feeling the need to ask a question. However, not every customer will pick up the phone quickly or send an e-mail straightaway. Studies have shown that for every question one particular customer poses, there are at least 10 who don't (dare to) ask the same question. So it's better that you ensure that the communication threshold is as low as possible. That threshold is almost non-existent with an online platform: your customer simply gives his feedback directly via the platform and your salesman is immediately informed by a message. If amendments are necessary, your contact will always see the latest version - no confusion is possible.
Sign anywhere
Another advantage of having your quotations online is how easy it is to use this system. The recipient can review his quotation anywhere, any time, and what's even better, he can sign immediately. Regardless of whether he's viewing the quotation on his smartphone, tablet or computer, or if he feels like examining your proposal at the office, on holiday or even on the toilet, he can approve it anywhere. That's simple, isn't it?
And in practice?
It's easy to sum up the advantages of online quotations, but how do you incorporate them in the daily operation of your company? Teamleader offers a user-friendly solution that includes sending and following up quotations online with the external platform Cloudsign. Cloudsign is an integral part of Teamleader. The platform allows you to send quotations to your customers. They in turn can examine the quotation, download it, give feedback or approve it. You can also match the platform entirely to your own house style so that you give your company that extra professional touch. Finally this: Your quotation is one of the most powerful sales tools of your organisation. If you're still not convinced about this, we recommend that you read our e-book about quotations.
We won't spend any more time talking about it and will leave it to you to try yourself. Test Teamleader for free for 14 days and find out for yourself how easy sending online quotations can be!