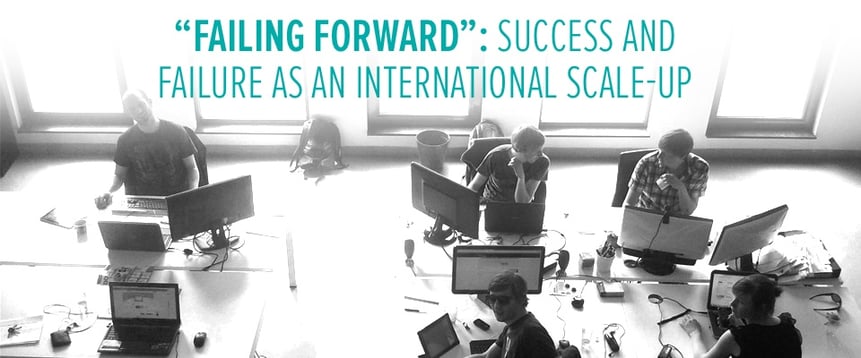 The road from start-up to international scale-up is covered with obstacles. How did we tackle those, and what did we learn from that? Read on!
Being an entrepreneur comes with a lot of trial and error. We learned it the hard way: our international expansion, starting off as a Belgian company and opening offices in Berlin, Amsterdam and Madrid, over the course of just 4 years presented a lot of highs as well as its share of lows. The process of transitioning from start-up to scale-up came with plenty of obstacles to tackle too.
Fall down 9 times, get up 10, right?
After all, true entrepreneurship means making mistakes, and more importantly, learning from them along the way. Long before start-ups where a thing, John C. Maxwell wrote about the importance of learning from your mistakes to grow in his highly acclaimed 1982 business book "Failing Forward: Turning Mistakes Into Stepping Stones for Success":
"In life, the question is not if you will have problems, but how you are going to deal with them. Stop failing backward and start failing forward!"
4 years of Teamleader is the perfect occasion to reflect on the past and share some of our key learnings. Let us walk you through the most important ones, and (hopefully) you'll learn a thing or two from them.
Fail #1: Different cultures and habits, you say?
Teamleader started off as a start-up in Ghent and quickly grew into an international organisation with offices in Amsterdam, Berlin, and Madrid. All in just 4 years! Belgium is small, and therefore, it was the perfect playground to test our product-market fit to the full. Soon, we discovered Europe would become our habitat. In our strong desire to expand, every so often, we hit our head against the wall.
The Netherlands for example. After a jump start in Belgium we felt ready to conquer the Dutch market. Contrary to our belief, implementing our exact same strategy wasn't as easy as pie. The Dutch purchasing process isn't quite the same as the Belgian one. Their knowledge of CRM is at a different stage too. So blindly copying our go-to market strategy for the Dutch market, as we initially tried, wasn't the best way to go. Major learning point number one!
So what about Germany? The different selling process, a lower cloud adoption rate, stronger emphasis on data protection, a different competitor landscape, etc. were just some of the reality-checks that hit us which prompted a new strategy. In all honesty, even though we oozed enthusiasm, we simply didn't take these factors enough into account when opening up our Berlin office.
To summarise, our Dutch and German adventures taught us the following two lessons:
First, our product clearly doesn't fit the 'one-size-fits-all' category. What might work for other SaaS products, won't work for us. We need a multi-local approach. With local people that know the market, speak the same language, and live and breathe the same cultural values. Once we determined and finalized that strategy, it proved a recipe for success for other markets too.
Secondly, we had to find a way to kickstart new countries in a fast, more data-driven and risk-reducing way. This is how our international team was born; a group of countries we start, rather low key, from our HQ in Gent. After a thorough analysis, we place our bets on the country that gets the highest traction. Proof is in the pudding - the first example of our new strategy - Spain - where we successfully opened up a new office in September.
Fail #2: The tension between growth and customer focus
In our early days, months, years, our whole world revolved around our (oh so) precious first customers. A customer had a question? We immediately jumped on it and solved it first hand. A customer was lacking a feature? We put all our eggs in one basket to come up with a workable solution. We even called up customers to congratulate them when they landed a new deal. Moreover, we invited them for a barbeque as we saw our customer base grow. It was an overwhelming, but truly amazing feeling. I'm 100% convinced Teamleader earned its keep because of our extremely customer-centric philosophy.
What's more, our obsessive customer focus is one of our guiding parameters in the hunt for new colleagues. However, our massive growth of these last few years eventually started putting a strain on our customer-centricity.
If you're growing, you need to organise in a scalable way. This requires a focus on internal processes. Which means that, every now and then, you need to push back on customer feedback to get your internal workflows straight.
So, what's the risk? While we used to pride ourselves on investing most of our time in our customers, all of a sudden, agendas get hijacked with meetings on internal processes, strategy and projects. At the same time, you're struggling internally with employees that are far from unfriendly with customers, but have less real contact with customers. As an ever-growing scale-up, relieving this tension and finding and maintaining our balance is part of our daily routine.
So how do we go about this? By bringing people - across all departments - in contact with our customers at our own events. If possible, we also try to gather an interesting mix of Teamleader colleagues with different backgrounds to head out to fairs and conferences. This way it's not just our sales people that get to attend events, but our support crew, developers, HR colleagues and marketeers also get a grip on our customers' needs and wants. We continue to repeat that same message during our bi-weekly fold-up meeting with the entire, international team: customer-centricity truly is the cornerstone of Teamleader.
Fail #3: The tension between growth and product development
Creating scalability in a fast-growing technology organisation means, first and foremost, creating a product that's scalable on a technical level. In other words: ensuring that your product, currently used by 100 people, works in the same way for 1,000. And in the future, even for 10,000 users. Luckily, we relatively quickly covered that technology part.
But, in the midst of an ambitious international growth strategy it proved to be a lot tougher to continuously manage our product in order to functionally scale it. So what are some of the tough questions we have to ask ourselves every day? How to process incoming feedback in a scalable manner with thousands of users. How to decide which feature requests make the cut, and which don't. In the beginning, we created a "listen-filter-qualify" methodology. But by expanding on an international level, applying it grew exponentially trickier.
In our current approach, we've started working with user groups. By inviting different customer types we involve our customers directly in our product development. This no longer limits us to just identifying the issue and then making resolutions. We really work to resolve the pain points. This is a continuous battle, but one we're determined to win.
#Fail 4: Proactive recruitment, taking a leap into the unknown
In order to grow, you need a strong product and the endless enthusiasm of a talented group of people. Same goes for us. Our growing curve is steep; it makes you feel like you can conquer the world. Entrepreneurs understand that feeling. Unfortunately, it's not that straightforward to proactively manage the growth of your team. How many people do you really need to support your current growth?
Where can you find that talent? How much time do you need to find and train them? When should you start your hunt?
As a scale-up, we sometimes struggled to fill in the gaps in the capacity of our teams - in time. Regardless of whether that's in Marketing, Sales, Development, Customer Success and our Central teams.
In addition, as a Belgian founder of a Belgian company, you tend to look to your own country a bit too much in the early days. But there's plenty of strong talent to be recruited elsewhere. With our business model, that is fit for international expansion, you should recruit internationally from the get-go. In reality, we only started this in a later stage. With what I know now, I would probably have started sooner.
What have we learned from this? 3 major points.
First, we ask everyone in a management position to always think ahead, estimate the growth of the teams, and write out vacancies proactively.
Secondly, we try to establish a pipeline of people we believe in so that we can act quickly if a staff shortage pops up.
Thirdly, we try to integrate non-Belgian people in our HQ teams so that we don't just limit ourselves to searching talent within the borders of our own country.
Tackling challenges with a head held high
"Failing forward" is clearly a concept we're familiar with at Teamleader. But it's nowhere near the end of the story: every giant leap forward (and believe me, we've taken many so far) always brings about new challenges. It's an essential skill for entrepreneurs to be aware of this, and tackle the challenges to come with your head held high.