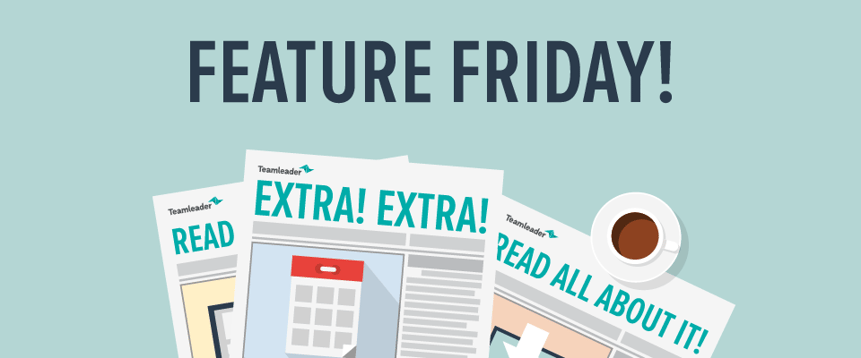 Having a meeting occur periodically has been a basic functionality for a while now. Copying a meeting to a random new time slot wasn't. Until today!
Copy-paste meetings
On a meeting detail page, below actions you'll find 'Copy meeting' now as well. This opens a pop-up in which you can specify a new date, time and duration. Change these three options to your own liking for the copy of the meeting; the original one will remain unchanged.
All of the internal employees attending the meeting will automatically be copied to the new version as well. They will receive a notification of the new meeting. If there are external contacts involved, you'll get the option to copy those too, plus the option to send them an invitation to the new meeting.
Change invoice preferences in bulk
The invoice preferences of a customer are by default set to 'price per user' in Teamleader. This means that timetracking on a customer level is billed based on the hourly pricing you have defined per user. Until now, there was no way to change this preference for more than one customer at a time.

Luckily, here at Teamleader, we're not shy of a quick fix. That's why we've enabled the invoice preference as a new field for the Excel exports on contact and company level.
So if you're creating an export of (some of) your contacts or companies, you're able to select the field 'hourly rate' when creating an export template. This field is also included by default in the standard export.
You'll find the field in the generated Excel file. To change the invoice preferences, you can apply three values:
USER: this sets the invoice preference to 'price per user' by default (adjustable when editing a user under Settings > HR).
TYPE: this value will set the 'price per task type' as standard (change this at Settings > Planning).
Numerical value: if you fill in a number (e.g. 50.00), then this value will be the new 'fixed price per hour'. Make sure you always use a decimal point instead of a comma.
When you're finished, save the Excel file and import it again into Teamleader. Only the changed values will be overwritten. In this case, only the invoice preferences will change.
This feature is only available for invoice preferences on contact and company level. On a project level, this setting is always provided when creating a new project.