Improvements to sending invoices via postal service
It has been possible for a while to send your invoices via postal service to your customers in Belgium. We're glad to announce that as of today, this is also possible for Germany and The Netherlands.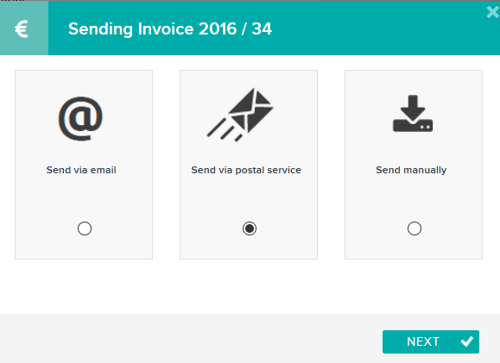 There is a small difference in these two:
The Netherlands
To send invoices within The Netherlands, you don't need to activate anything. The feature is available when clicking 'Send' on the detail page of an invoice. Just select 'Send via postal service' and select the right country.
When clicking 'Send', you'll get a notification of the cost of the sending. This amount will be deducted automatically from your Teamleader credits when you confirm that you want to send the invoice.
Germany
In Germany this is almost the same principle, except you have to activate the integration with Deutsche Post first. As with all our other integrations, you activate it via your personal menu (below your name in the right hand corner) and go to 'Integrations'. There you will find 'Deutsche Post'.
Note that you need to have an account on Deutsche Post first to be able to activate the integration. If you don't have one yet, you can create one via www.deutschepost.de.
After the activation, the following steps are the same as stated above: click 'Send' on the invoice page, choose 'Send via postal service' and choose 'Germany' as country. The only difference here is that the price you will have to pay will be subtracted from your Deutsche Post account instead of your Teamleader credits. Prices may therefore vary according to the type of account you have.
Brand new Teamleader Knowledge Base!
We're overjoyous to announce that we have released our brand new Teamleader Knowledge Base platform! Though there was already some kind of knowledge base to be found on our uservoice platform, we now have a page completely dedicated to helping you find answers to your questions.
With the help of short FAQ's and our longer, well known and more explanatory How To's our goal is to help customers help themselves when they hit a roadblock when using Teamleader.
The platform is accessible via support.teamleader.eu and will be constantly updated and expanded with new articles and tips. So help yourself if you're in need of some support!
Add multiple attachments when sending quotations
As of this week, when sending quotations and adding attachments, you can select multiple files at once to add to your accompanying email. When sending a quotation, you always have the option to add a file. Until now it was only possible to add one.
Even better: you can also add default files to your quotation email template. When navigating to 'Settings', choose 'Deals' and then edit or create an 'email template for quotation'. The attachments you add here will be sent along every time you use this template when sending a quotation.
Worksheet layout
Another novelty is the fact that you're now able to adjust the layout of your worksheets. Just as with invoices, quotations and timetracking reports, you can use a Microsoft Word document combined with shortcodes to layout your worksheets as well.
To do so, navigate to Settings > Document layout and choose Worksheets. You can find more info on using your own house style right here.